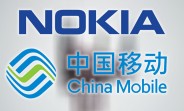 Nokia has just announced the signing of a frame agreement with the leading Chinese telecom China Mobile. In the next 12 months, the Finns will deliver mobile, fixed, IP routing, optical transport, and customer experience management.
The deal is valued at €1 billion and is expected to culminate with the rollout of 5G networks in China next year.
As for partners in the deal, Nokia will advise China Mobile which products and services should be enabled for the operator to "explore new opportunities in vertical markets".
Both sides have signed a memorandum of understanding that allows…
source https://www.gsmarena.com/nokia_china_mobile_one_billion_cooperation_agreement-news-32157.php