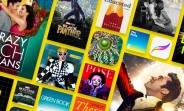 With 2018 nearly over the two major app stores have highlighted the best apps, games and multimedia. Here are the picks from the Apple App Store. Two major genres defined this year – battle royale games and self-care apps.
Predictably, Fortnite and PUBG are high up in the rankings. However, the Game of the Year for the iPhone is Donut County, for iPad it is Gorogoa.
For gaming at home, The Gardens Between for the Mac and Alto's Odyssey for the Apple TV.
Donut County • Gorogoa • The Gardens Between • Alto's Adventure
Next up, apps. Procreate Pocket is the iPhone…
source https://www.gsmarena.com/apple_announces_best_games_apps_movies_and_books_on_itunes_for_2018-news-34540.php