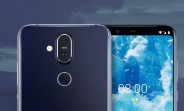 HMD unveiled the Nokia 8.1 – which under the new naming scheme is the successor to the Nokia 7 plus. But this is not a new device, it's just the Nokia X7 arriving in the Western market.
The news-worthy bit from today's event is pricing and availability. The Nokia 8.1 will be available globally in mid-December at a price of €400.
The Middle East is among the first launch markets. Pre-orders in the UAE start tomorrow (at AED 1,500), the phone will be available on shelves on December 15. It will reach the rest of the Middle East on December 20.
Since the phone is only just venturing…
source https://www.gsmarena.com/nokia_81_announced__x7_for_the_west_its_coming_in_middecember-news-34569.php