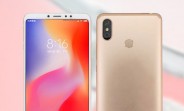 Yet another sighting of the Xiaomi Mi Max 3 reaffirms all we've seen until now but it's the first leak in video form.
While very short – 03s – the video shows all sides of the phone and all its stickers. On the back there's a dual camera and fingerprint scanner and the screen-protective sticker on the front reveals the name of the Mi Max 3 as well as the 6.9-inch size of the screen, the 12MP + 5MP dual camera and the 5,500mAh battery.
We've seen the battery reported as a 5,400mAh unit, but that could be a case of minimal vs typical capacity.
As for the screen, we're yet to see…
source https://www.gsmarena.com/retailready_xiaomi_mi_max_3_handled_on_video-news-32107.php