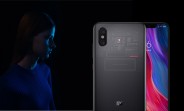 The Xiaomi Mi 8 Explorer is receiving a new version of MIUI OS 10, which brings two fairly major camera improvements. The new ROM – MIUI V10.1.2.0.PEHCNFI – is based on Android 9 Pie and is currently rolling out in China. It's a 2.1GB update.
The first major change is the addition of of 960 fps video mode. Previously, the phone topped out at 240 fps.
The second addition is called Super Night Scene. It takes 8 photos at different exposures and merges them into one brighter, higher-quality shot.
MIUI V10.1.2.0.PEHCNFI for the Xiaomi Mi 8 Explorer
The Super Night Scene feature…
source https://www.gsmarena.com/xiaomi_mi_8_explorer_gets_960fps_mode_super_night_scene_with_latest_update-news-34537.php